Yep. You heard right. Tampons?! There's a new brand named Moxie on the market right now that is just great for girls that like things to look…cute. Deceivingly packaged this range is great.
They are available for sale at
Superdrug
. The range includes, Scanty panty liners. These are designed for everyday use. They are very slim, come with wings and each pad is embossed with the trademark Moxie bow. Each pack comes with a "purse worthy" tin to keep them in. The tins are great. They are pink in colour with the bow on the front. Anyone raiding your bag would never suspect this tin! I recommend this brand for young teenagers who are still a bit embarrassed. There are also, Slender pads, and Night time pads. Again each pack coming with the tin, and embossed with the cute little bow.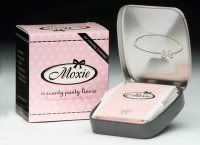 Tampons come in both regular and super. Regular being the peach design, and super being the pink. They come in packs of 16 and 32. Packs of 16 come with 2 tins, where as 32 come in a boudoir worthy box, ready to refil the tins.
These are all Non applicator. The packet is a simple twist and turn again with a bow printed onto the front. They have recently introduced new applicator tampons, which are in a few select stores. Now we all hate Tampaxes horrible windows 95 teal coloured strings. But Moxie, keeping it feminie to the max have pink strings. I couldn't believe my eyes when i saw. I fell in love instantly. I know falling in love with a string! But it isn't just that. Moxie's tampons are great. The absorbancy is fantastic, the quality is exactly the same as leading brand Tampax or Lil-lets.