I've been specially asked to post a few bits and bobs on here by a friend from Superdrug.
With metallics coming back in in force this season this holographic nail polish from the brand GOSH at Superdrug should be bang on trend. For the first time ever I'm handing over the controls to someone else… I'm Scared. Here is her review for you all to peek at.
" I've never tried Gosh nail polishes before and I must say after trying this one today I'll definitely be buying some more!
In 2 coats it looks perfect, doesn't take to long to dry and after testing it by opening a can of coke, it doesn't chip straight away. Well worth giving this colour or one of the many gorgeous others a go! £5 each and worth every penny but for a limited time only. This colour and a few others are HALF PRICE but hurry as they wont be around long! "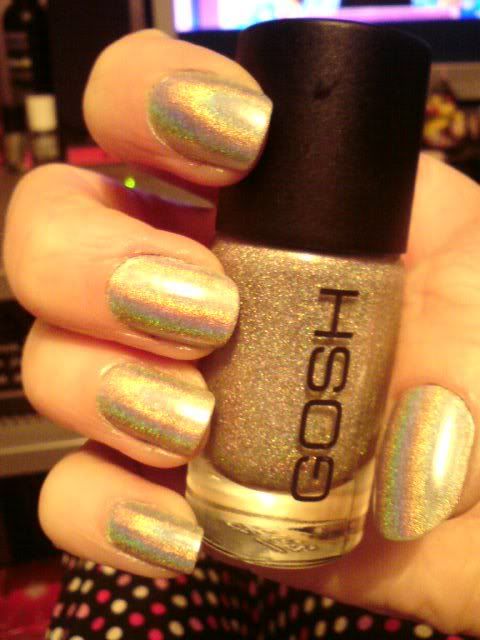 After trying the Gosh polishes myself I'd definitely agree they are good hard wearing lacquers. The only thing I'd add to this is to not forget a good base and top coat to prevent nail staining and to help with chip resistance. The brush is a great size, unlike the MeMeMe nail polishes which are far too big and end up with you colour flooding the cuticle, so you can get a nice clean line around the nail when painting. These colours are only available in bigger Superdrug stores and online and they are selling fast, so go on! Get a move on!
Lots of Love
Aimsie xxx