Ok, So It's here. Rimmels new Lash Accelerator with grow lash complex. Now I've never been one to hide my feelings on certain Rimmel products, but nevertheless I put all that to the back of my mind and gave this a try.
Rimmels last mascara, the 1,2,3 looks was a complete flop. Sales of it were awful and for anyone who's tried it they will understand why. It was clumpy, the tube broke very easily, it was messy and once applied looked cheaper than a tarts knicker drawer.
The new Accelerator mascara does look better, its quite eye catching on the stand and some of its displays in stores are quite nice. Price wise its R.R.P does seem quite hefty at a whopping £8.99. I'd expect to pay this for a Maxfactor or Gosh mascara, although it does promise "Advanced, ultra lengthening formula for beautifully long, remarkably strong lashes" and is available in both black and brown.
The mascara also promises to lengthen lashes by 117% in 4 weeks. My mothers been using this mascara for a week so far and hasn't noticed a change in the condition, strength or length in her lashes just yet. So only time will tell on that one.
The brush tapers at both ends, thickening towards the middle. At first I did find it quite awkward to use, but its amazing for coating your bottom lashes! After one coat I found my lashes looked lengthened, however they looked thin and splindly like an incy wincy spiders pins. After two coats I found some lashes started sticking together and looking very uneven and undefined. This is a great mascara if you like very natural appearing long lashes that are rich in colour.
I could give or take this mascara. Considering its Rimmel its not half bad. It didn't flake or smudge throughout the day like some of its others and lasted well, It was also easily removed come bedtime. As a lengthening mascara it works quite well, although I really don't advise more than 1 coat because that's when it starts looking tacky and lashes get clogged up and look patchy as you can see in the picture above. Id recommend this mascara for middle aged and older ladies, such as my darling mummy who need the extra TLC in their lash follicles and a more natural, less mutton dressed as lamb appearance. Teenagers and twenty somethings, don't bother this isn't a replacement for your Maybelline Falsies and Maxfactor False Lash Effect mascaras just yet.
This mascara is a good one for Rimmel, definatley a step forward for them, but it still isn't quite reaching the mark for me. I'm giving it a 5 out of 10.
Nice try Rimmel, but not this time. I need VOLUME!!!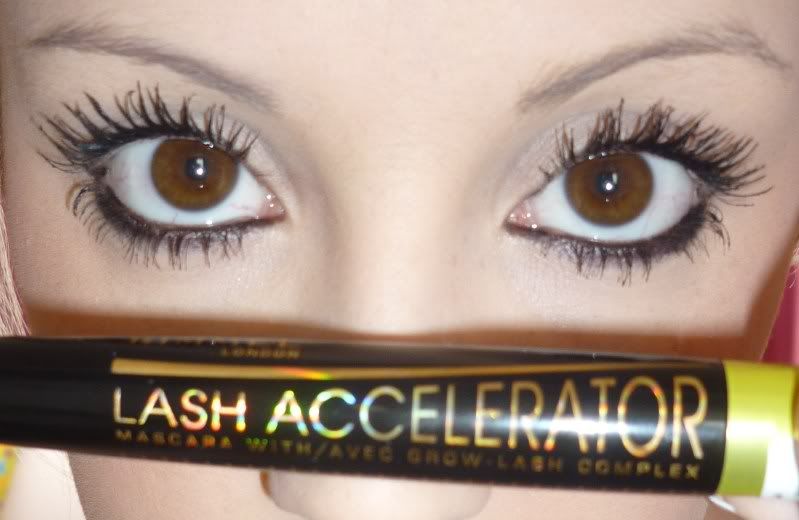 Has anyone used this mascara yet? I want to know what you think!! Message me on my email above.